We're a week away from the start of February, and for the first time all winter, we're able to say these words: There is real, measurable snow in the forecast for New York City.
Don't pull out the sleds and snow tubes just yet, though.
In a winter that has seen parts of the country walloped by historic snowstorms, including other areas of the Empire State, NYC has been notably bereft of the white stuff. Bereft might be too light a term, considering we haven't seen any measurable snow at all thus far — and we're more than a month into the season already.
But the long wait may be over in short order. At this point, Wednesday looks marginally interesting, at least, for those concerned about records and such.
The city itself and areas along the coast could see a quick burst of snowfall during the mid-to-late-morning hours. Any snowfall that does come will change over to rain shortly after, however, as temperatures will rise to around 40 degrees.
While the city and surrounding areas are looking at the chance for less than an inch of snow (still would count as measurable, which, as you know, we haven't had yet!) before it switches over to rain, other areas in northwestern New Jersey and much of the Hudson Valley could see up to 5 inches, as it will stay as snow to the north and west of the city. That could make for a tricky evening commute Wednesday evening.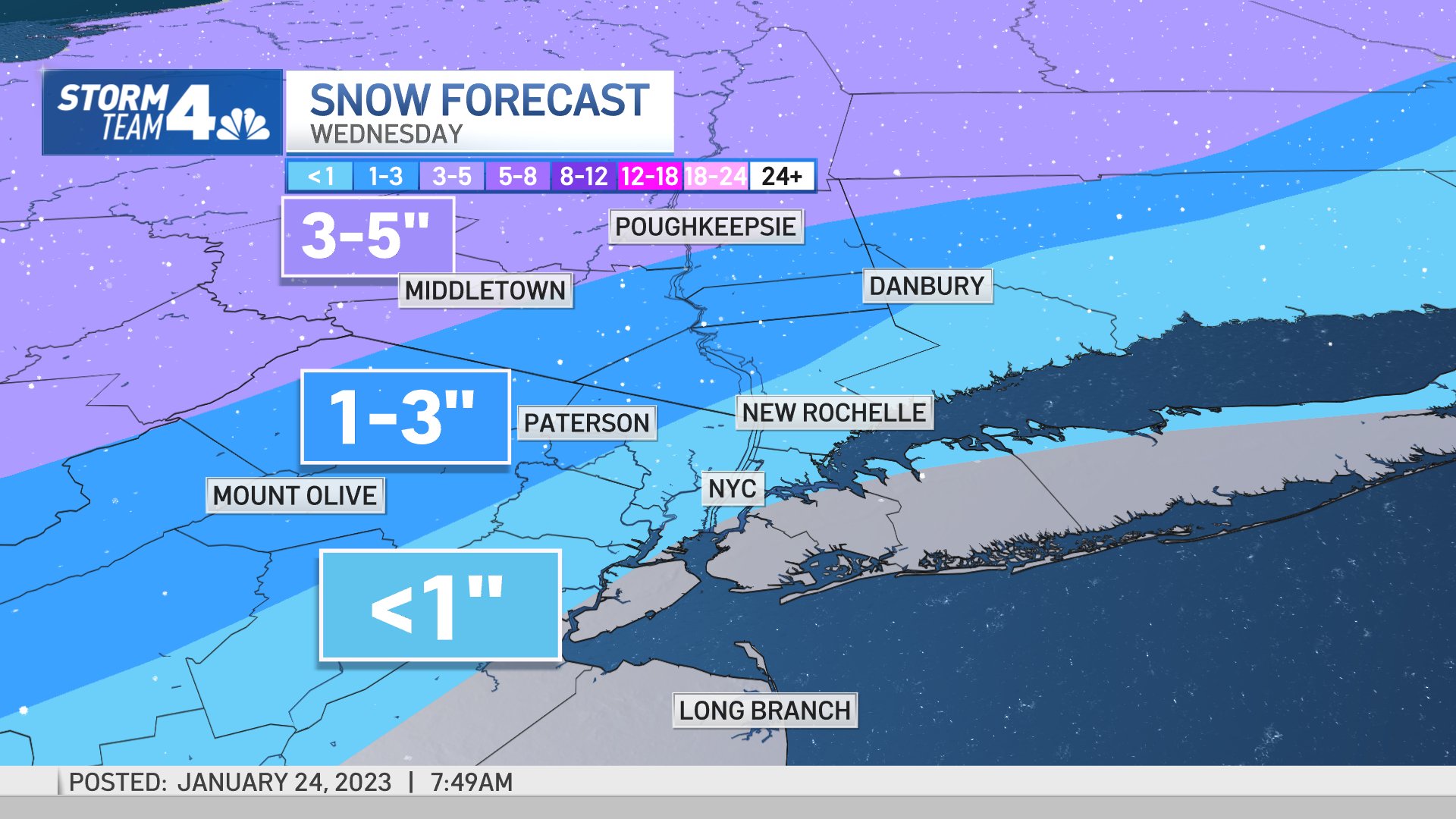 ---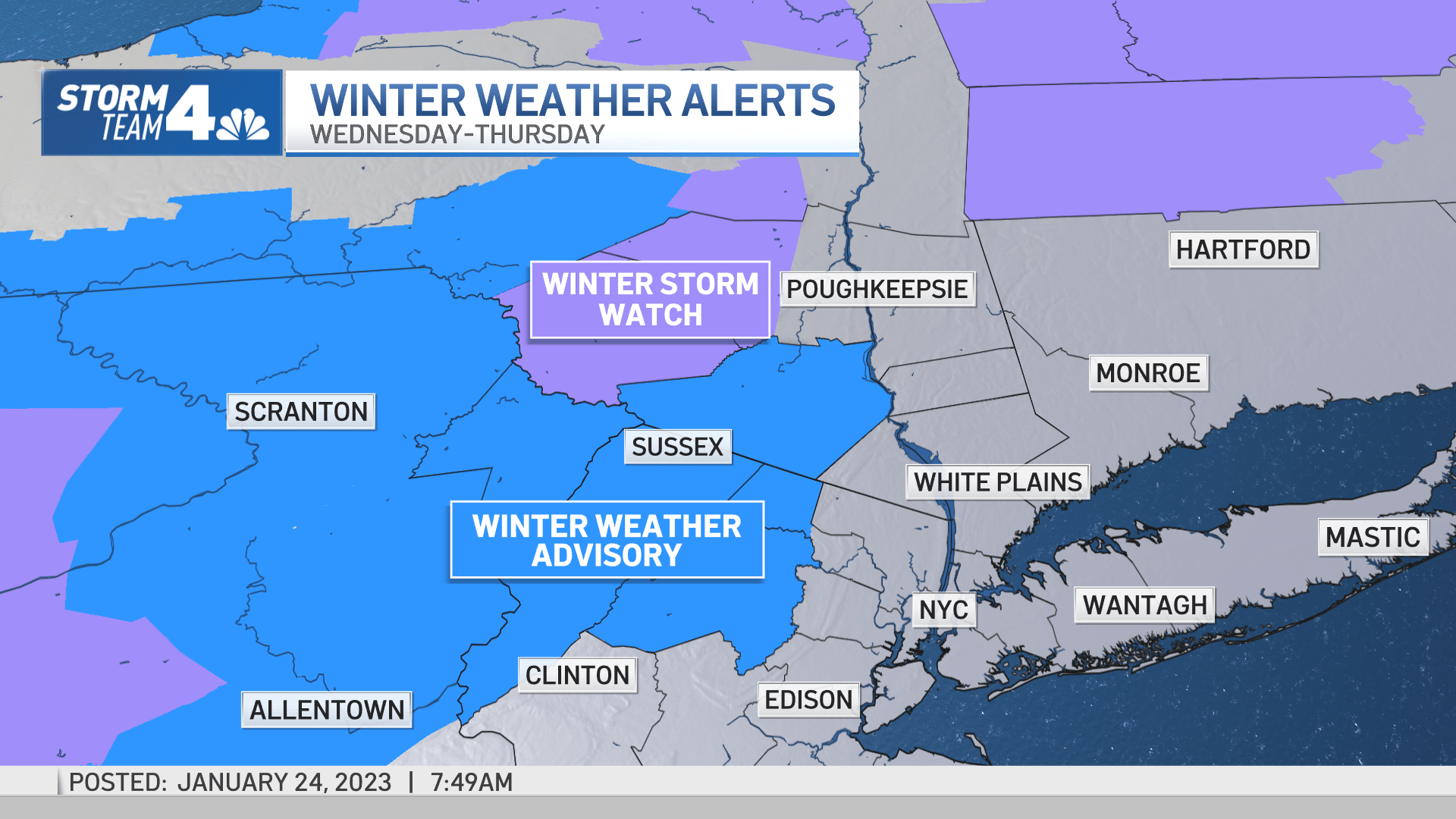 ---
Should measurable snow actually come to Central Park Wednesday, it would mark the second-latest date ever in terms of first measurable snowfall recorded there. Should the snow yet again dodge the city and we make it until Monday without any of the white stuff — quite possible given the run of above-freezing highs — we've got a new record.
Regardless, the expected precipitation is expected to change almost entirely to rain later in the day across the metro area. Some rain could be heavy at times and winds will likely pick up as well, but should end in time for the Thursday morning commute.
There is another chance for snow come the middle of next week, but at this point, it's too far off to determine with any confidence whether it will bring snow or just more rain. Stay with Storm Team 4 for all the latest updates. And find the latest severe weather alerts from the National Weather Service for your neighborhood here.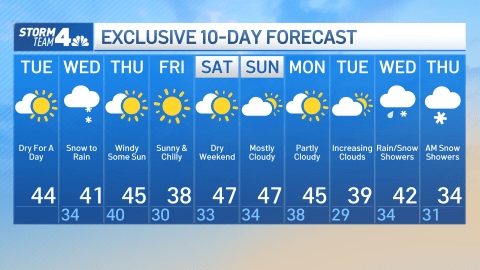 Record-Setting NYC Winter?
The latest date New York City has ever recorded accumulation is Jan. 29.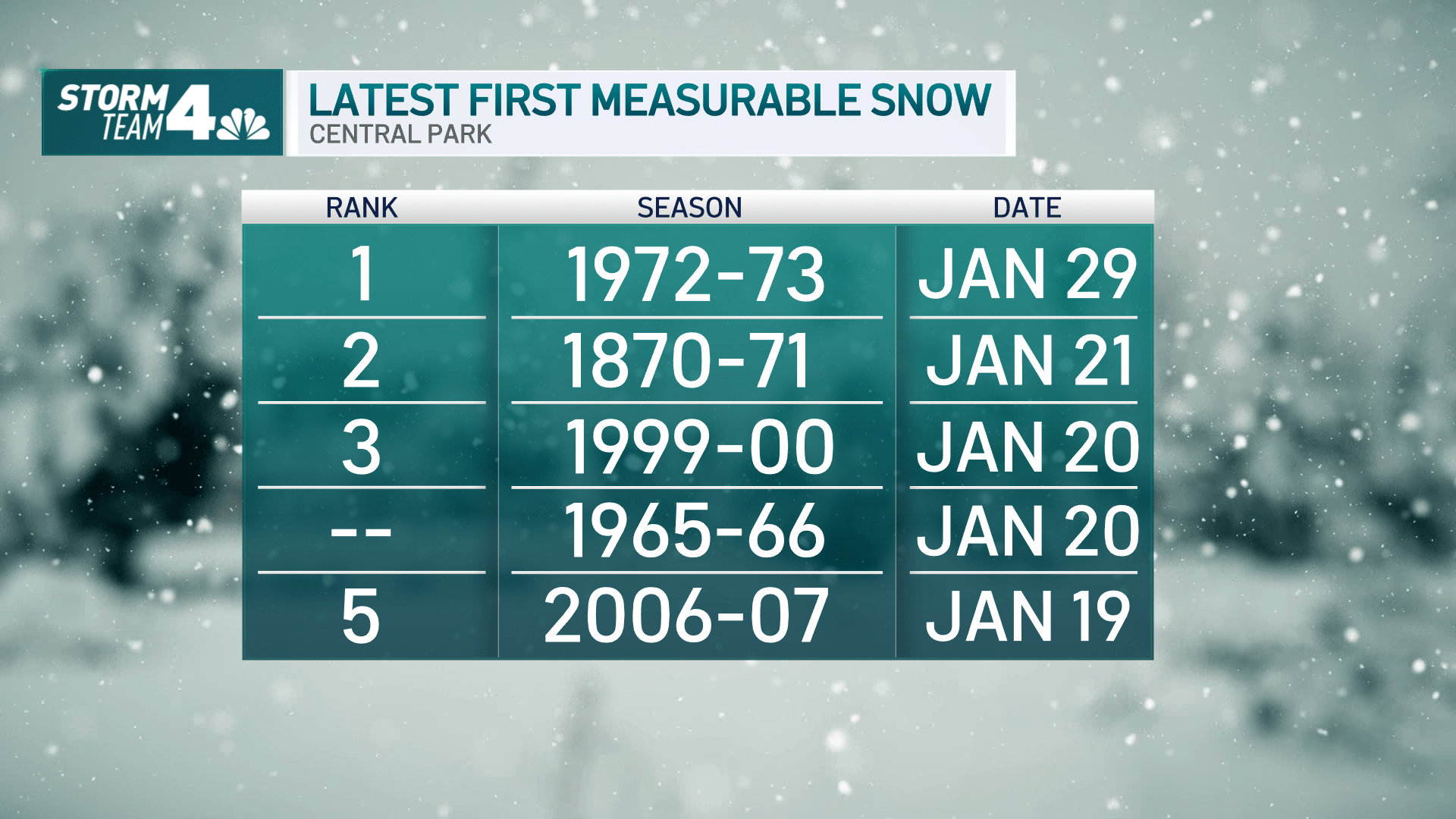 ---
First Central Park Snow Averages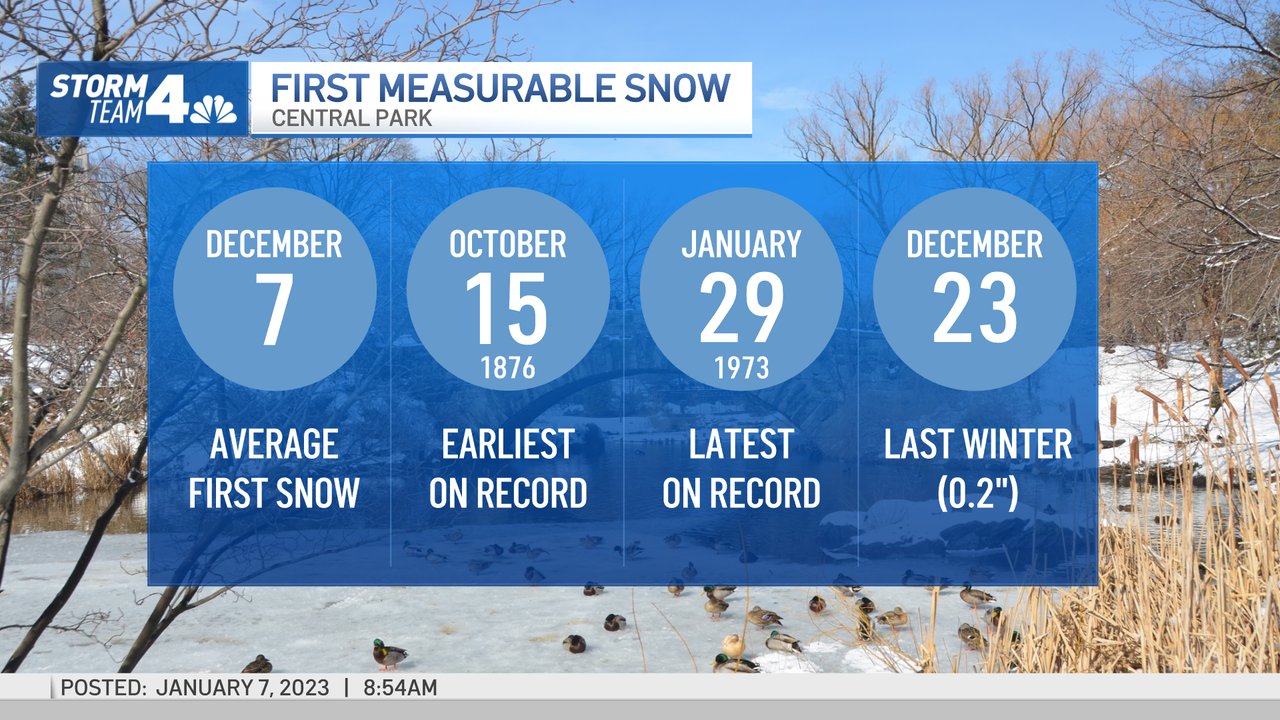 ---
The latest-ever date is Jan. 29, a record set in 1973. So if we make it another 19 days with no measurable snow, at least we can find solace in the fact we'll tie or even break a record. It's too far out to accurately predict our chances beyond the 10-day right now, but we promise we'll keep you posted.
Yes, we've technically seen snowflakes this season, but trace amounts of snow mixed in with rain don't count for weather data recording purposes. (That's not us, that's the National Weather Service.)
Last winter, Central Park recorded its first measurable snowfall on Dec. 23, although it was only 0.2 inches (so, you see, "trace" amounts are really nothing at all). The average first measurable snowfall in the city is Dec. 7, so we're already a month behind the average.
Looking ahead, it's not yet clear when the first major — or even notable — snowfall of this winter will hit NYC.
According to the Climate Prediction Center, it's possible we will see above-normal temperatures into February. The same models aren't quite definitive on what's in store in terms of precipitation.
---
This story uses functionality that may not work in our app. Click here to open the story in your web browser.