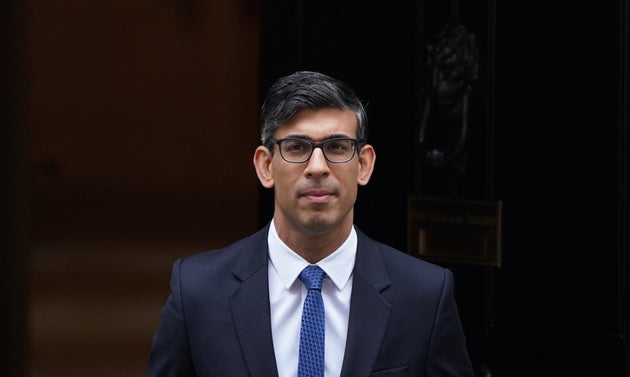 Rishi Sunak departs Downing Street to attend prime minister's questions.
Rishi Sunak has never paid a penalty over his tax affairs – Downing Street has said after earlier suggesting the matter was "confidential".
The government is feeling the heat after it emerged Tory chairman Nadhim Zahawi settled an estimated £4.7 million bill with HMRC while he was chancellor.
During the morning briefing of journalists based in Westminster, the prime minister's press secretary would not say whether Sunak had ever paid a penalty to HMRC.
But after Labour said Keir Starmer had never paid a penalty, No 10 issued a statement – five hours after the initial brush off – saying: "The prime minister has never paid a penalty to HMRC."
No longer confidential, apparently….

Downing Street spokesman: "The Prime Minister has never paid a penalty to HMRC"

— John Stevens (@johnestevens) January 25, 2023
No10: "The Prime Minister has never paid a penalty to HMRC."

It's telling of a Downing Street operation that it's only five hours after the question was asked by the lobby, and 10 days after the Zahawi story broke, that someone thought to check with the PM

— Matt Chorley (@MattChorley) January 25, 2023
Sunak's finances are under renewed scrutiny after the Zahawi revelations.
Starmer tried to draw a link at prime minister's questions between Sunak's handling of the current fiasco and his billionaire wife Akshata Murty, who has held non-domiciled status that could have reduced her UK tax bill.
The Labour leader said: "We all know why the prime minister was reluctant to ask his party chair questions about family finances and tax avoidance."
A spokesman for Starmer added to the pressure by saying that the Labour leader had never paid a tax penalty.
Earlier in the day, Sunak's press secretary said he would publish his tax return "in due course" but would not say whether he had ever paid a penalty to HMRC.
"You wouldn't expect me to get into the Prime Minister's tax affairs, they are confidential," she said.
"The tax affairs of an individual, irrespective of who they are, are confidential."
Rishi Sunak's press secretary refuses to say whether the PM has ever paid a penalty to HMRC, saying his tax affairs are "private".

— Mikey Smith (@mikeysmith) January 25, 2023
Apparently Sunak's spokesperson won't say whether the Prime Minister has ever had to pay a penalty to HMRC because it's private. Well let me invade my own privacy: I have never had to pay HMRC a penalty. Perhaps click like if you're the same.

— Jay Rayner (@jayrayner1) January 25, 2023
She would not commit to publishing six years of his tax returns, as David Cameron did while prime minister.
In the past, the press secretary repeatedly declined to say whether Sunak had private healthcare as the NHS strains under a series of pressures.
She argued that it was not "in the public interest" to divulge the prime minister's healthcare arrangements.
But earlier this month, Sunak, under pressure, said he was registered with an NHS GP but that he had used "independent" healthcare in the past.
A Labour spokesman told reporters that Sunak should reveal whether he had ever paid a tax penalty.
He added that Starmer had never paid one himself.