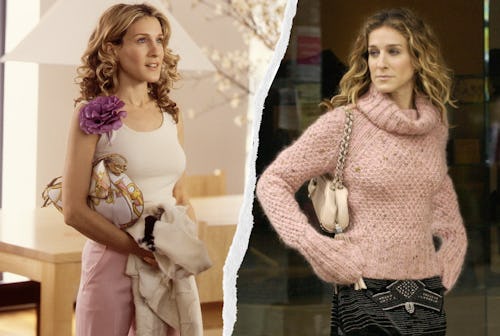 Carrie Bradshaw may be known for her Manolo Blahnik heels and cosmopolitan cocktails, but her handbag game is not to be slept on. Throughout Sex and the City, she utilized purses to highlight her incredible shoes and to add a pop of color to an otherwise monochromatic look. Though Carrie's bags weren't always practical (see: the Judith Leiber swan bag), her sense of style was never lacking.
The famous series is partially responsible for putting designer brands like Fendi and Dior into the mainstream on televisions across the country and making every fashion girlie dream of one day owning an Hermes Birkin bag. And even though Carrie gave her assistant a truly questionable bag in the first SATC film, her own closet has largely withstood the test of time.
While the reboot is packed with incredible fashion moments, the original SATC episodes still provide Y2K fashion references that feel trendy even today. So much so, that creators have revamped them for the new series And Just Like That… proving that across any decade, Carrie's accessories are always covetable.
Carrie taught fans everywhere about the art of accessorizing — and for that, we must honor her. Below, take a look through 15 of the most iconic handbags she wore in the series and subsequent films.
The Dior Saddle Bag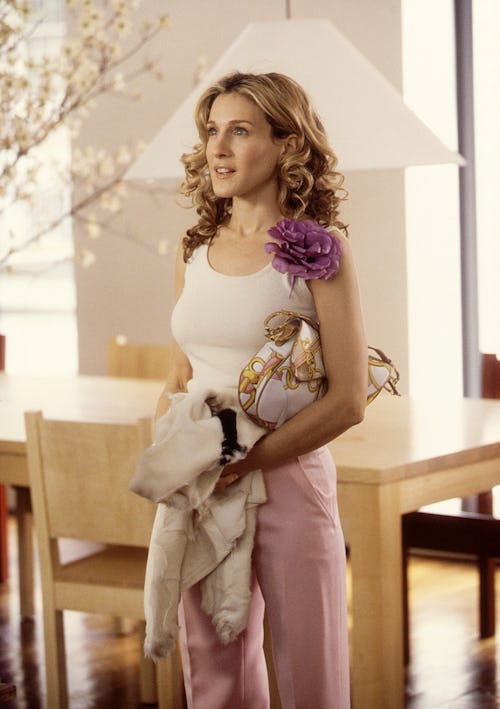 The Dior Saddle bag is one of the most iconic accessories of the show. The original style debuted in 2000 by John Galliano and Carrie was quick to nab one.
The Blue Hermes Birkin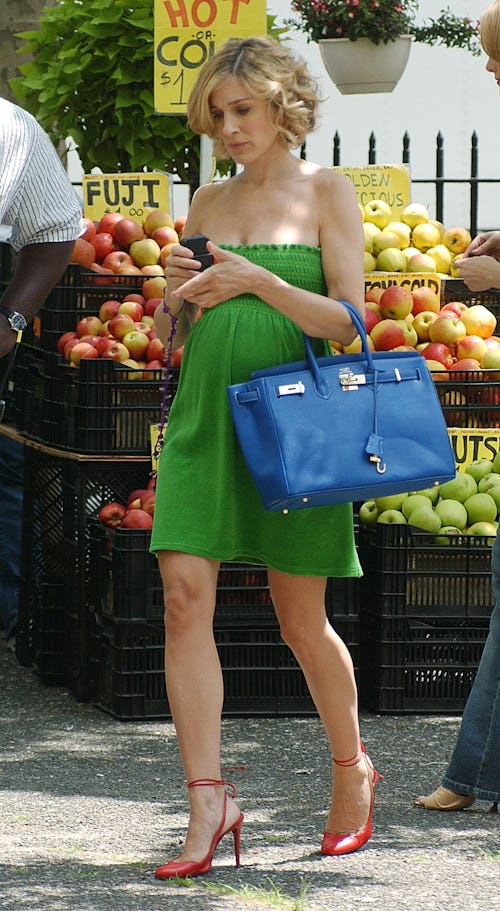 While Samantha struggled to obtain her own Hermès Birkin bag, Carrie owned several of her own, including this cobalt blue style. How did she afford that? The world may never know.
The Magenta Baguette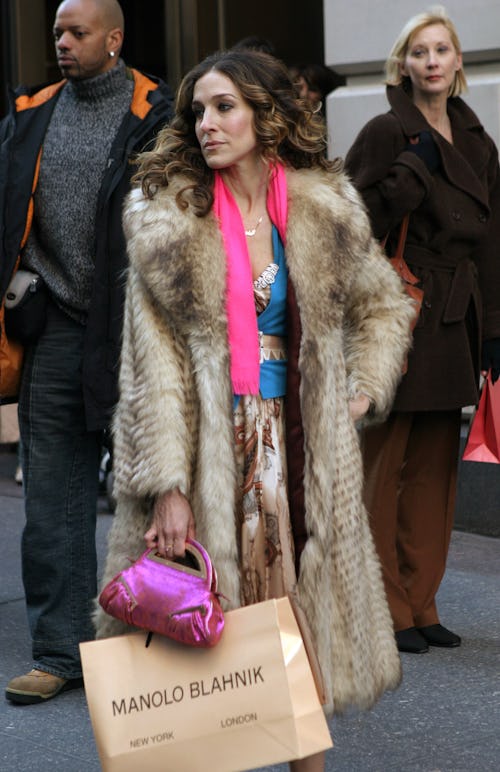 A pop of color is necessary with every outfit IMO. This metallic magenta, circle handle bag does just the trick.
This Mirror Bag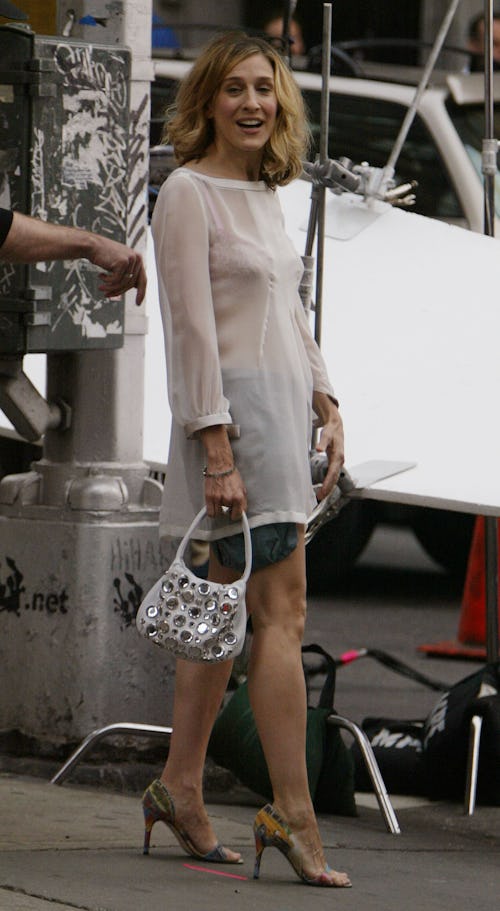 Sequins, rhinestones, eyelets, studs — it doesn't matter. Carrie doesn't believe in understated accessories.
The Fendi Baguette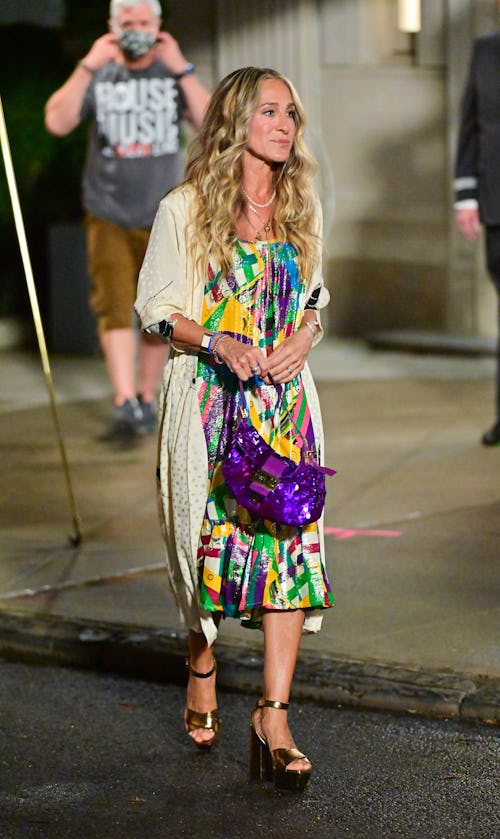 Carrie brought the iconic Fendi Baguette bag back for And Just Like That… and honestly, I couldn't be more grateful. This grape-colored sparkler is a work of art.
The Fringe Gucci Bag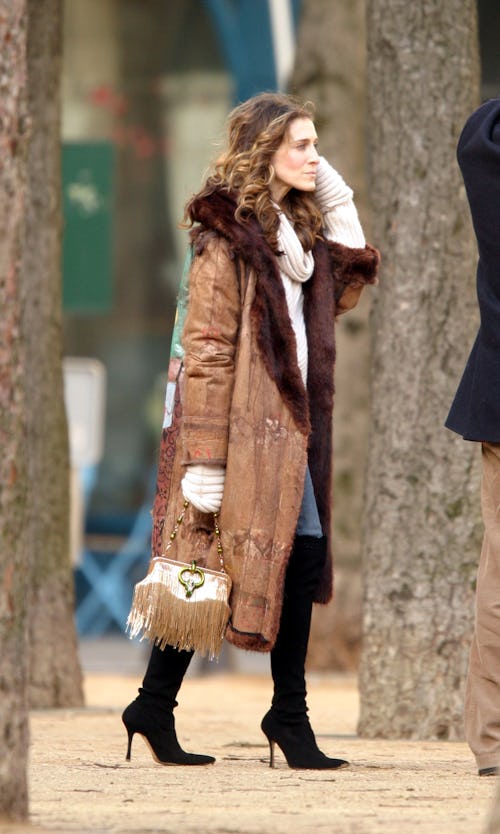 This bag is a relic, from the era of Tom Ford for Gucci, Spring/Summer 2004 to be exact. The green jeweled chain and beaded fringe make this handbag a favorite.
The Chanel Satchel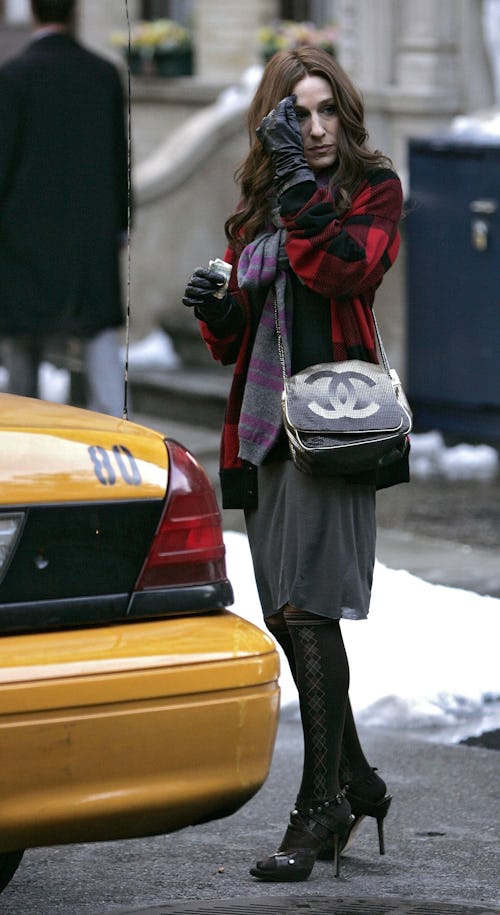 This ombre bag is not only super practical (all that space!), but goes perfectly with Carrie's winter wardrobe.
The Gucci Belt Bag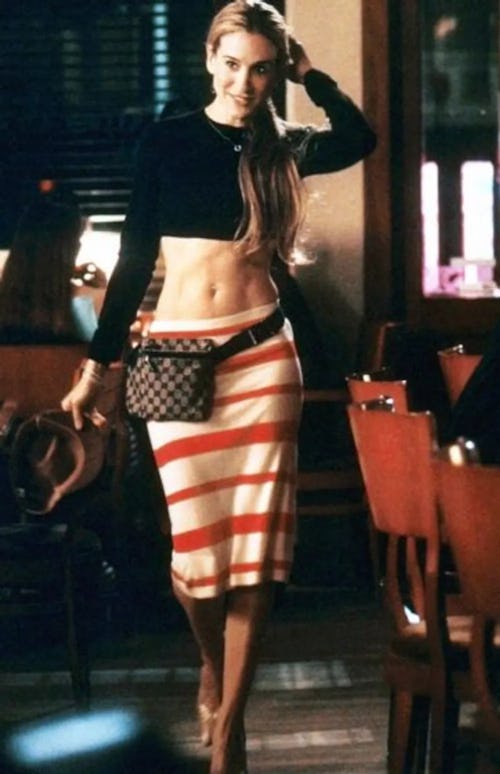 BRB searching The Real Real for this adorable monogram belt bag.
The Eiffel Tower Bag
Only Carrie could make a bag that resembles the Eiffel Tower look chic. This was one of my favorite bags from the Sex and the City movie and, no, I'm not sorry.
The Dior Fold-Over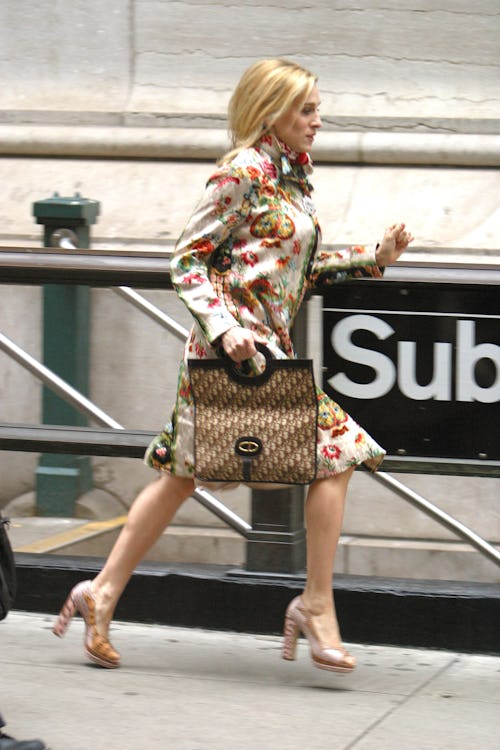 This Fold-Over Dior jacquard clutch is both functional and fashionable. One of Carrie's best, for sure.
The Shoulder Bag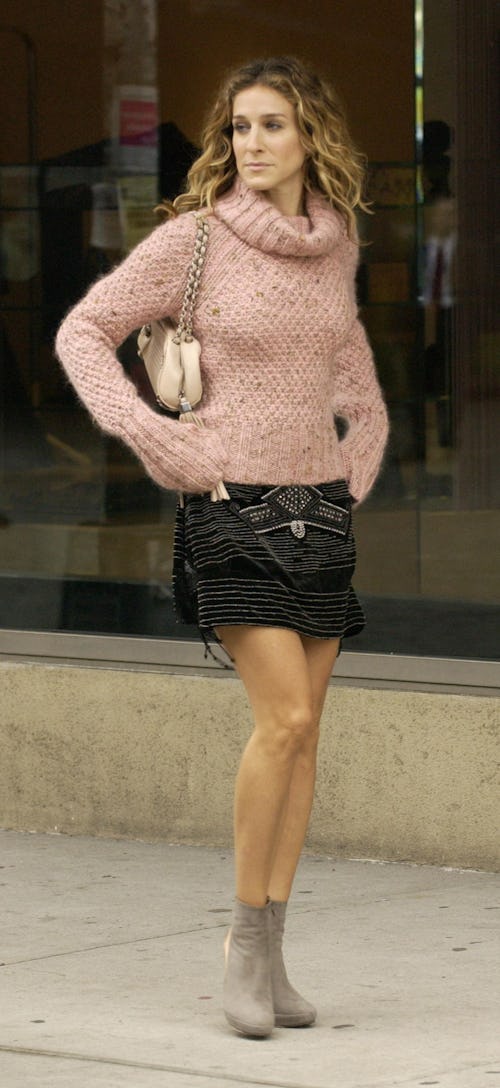 With its simple design and chain strap, Carrie's Y2K shoulder bag would sell just as well in 2023.
The Feather Clutch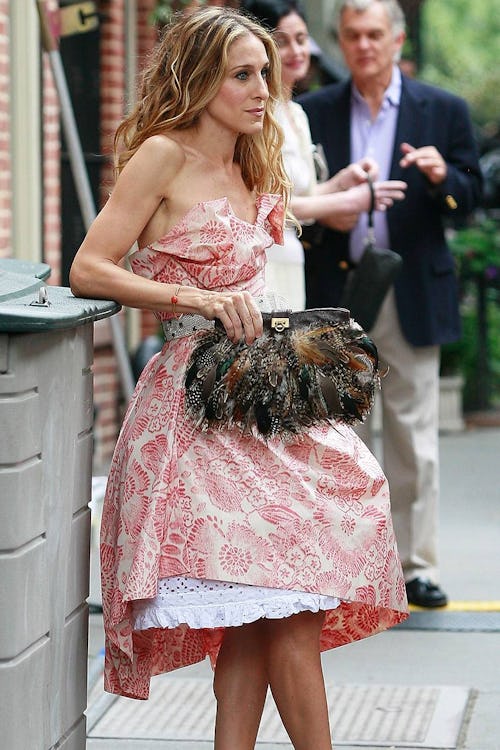 Carrie loved a good clutch. While feathers weren't typically in her wardrobe rotation, this handbag made a necessary appearance in the first film.
The Gucci Top-Handle Bag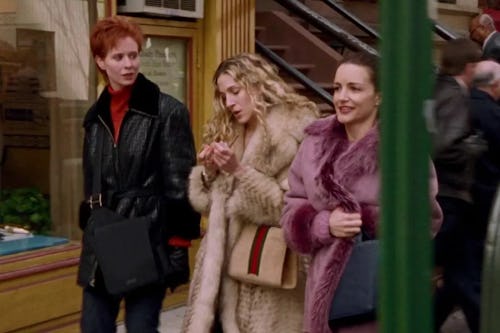 While today the Gucci Ophidia bag runs upward of $2,500, Carrie always had a way of making her freelance checks cover the necessary expenses (ie: Gucci and Manolo Blahnik).
The Swan Clutch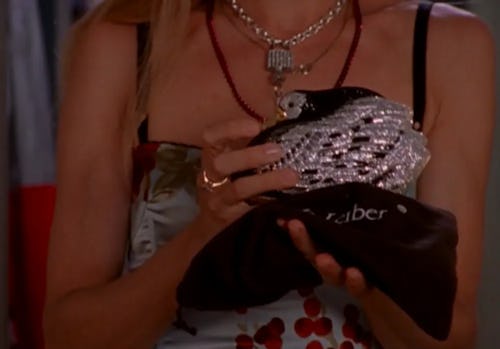 Carrie wasn't over the moon about this gift from Big (her exact words were "it was just wrong"), but the Judith Leiber Swan has seen its revival in 2023.
The Floral Oval Bag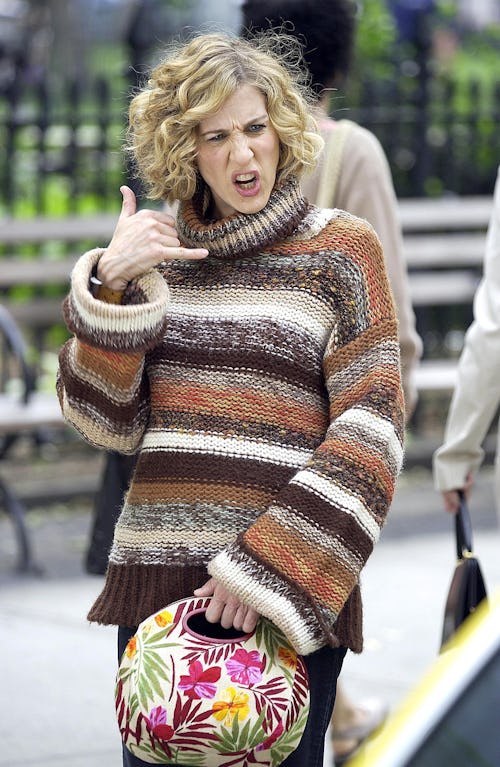 This bag is giving lunch box vibes, but at the same time, it kind of works. Leave it to Carrie to pull this off.