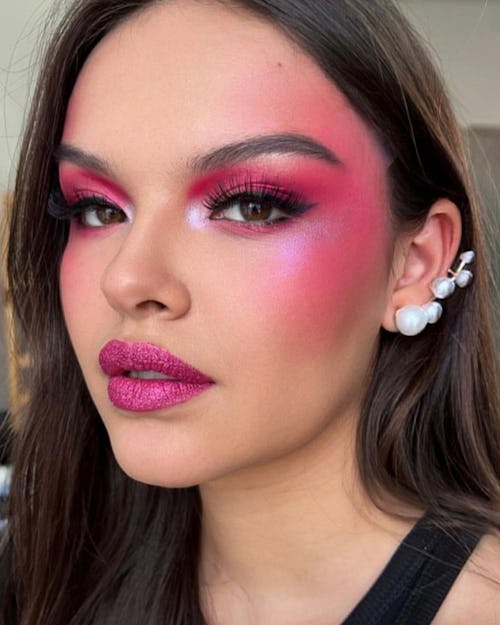 Valentine's Day is officially days away, lovers, lusters, and everyone in-between. Of course, that means 'tis the season for red roses, scarlet lips, sultry perfumes, and handwritten letters sealed with a kiss. And much like the holiday season filled with glam looks that sparkle well past midnight, the love-filled February holiday is all about playing with makeup in boldly flirtatious, sensually sweet new ways.
From more abstract works of art that use kiss marks as a graphic eyeshadow, to barely-there glossy lips and lids that allow your inner self to shine through: It's truly the perfect day to experiment with techniques and pigments you've never tried before. And TBH, Valentine's Day is *not* a holiday that excludes those who aren't in a relationship. In fact, it's a special day to remind everyone that there is so much love to be found in the world — whether it's from your gal pals, your family, a beloved pet, a stranger whose compliment makes your day brighter, or even within yourself.
So whether this V-Day is being spent with a lover, your tribe, or solo for some self-care and much-deserved pampering — here are 23 romance-filled Valentine's Day makeup looks you may want to play with all the way up until the 14th of February.
Siren Eyes With Invisible Brows
Kylie Jenner pretty much broke the internet with this out-there glam — and you're sure to bring all the drama with a similar invisible brow and sharp siren eye.
Red Between The Lines
Want all eyes on you? Add a serious pop of red eyeliner in your waterline for a sensual stare.
Deep Scarlet Lips
Take a page from Florence Pugh's book and pair a minimal makeup look with a deep burgundy lipstick. *Chef's kiss.*
Baby Pink Soft Cut Crease
Turn up the glamour with a pink-hued cut crease, frosted glitter, and a flirtatious lash.
Fully-Flushed Blush
Elevate a minimal makeup with look with a whole lot of blush, blended all over your cheeks, along your temples, and up towards your eyes for some added brightness.
Minimal Red Cut Crease
For a simple wing that still packs a pigmented punch — drag a red eyeshadow shade all along your lower lashline, connecting into an outlined cut crease.
Abstract Kisses
Get ultra-creative with your look and play with kiss marks in lieu of eyeshadow.
Smoked-Out Double Wing
Pair a kissable, neutral lip color with a classic smokey eye (made all the more special with an on-trend, '60s inspired double wing).
Lovely Lavender Lids
Create a super-pigmented lavender eye makeup look for a gaze that looks effortlessly dreamy.
Gimme Gloss
Allow your inner beauty to shine through with glass-like skin, juicy lips, and a gorgeous glossy lid.
Seeing Red
Pair a sharper-than-sharp red cat eye with some unexpected, colorful red eyelashes to match.
The Dark Side
Go bold with a (surprisingly wearable) black lip and some Euphoria-esque rhinestones placed across the bridge of your nose à la pop icon Camila Cabello.
Heart Eyes
Paint on some adorable tiny hearts all along your lid space for a look that embodies the heart eyes emoji IRL.
Chrome Daydream
Go for a glitzy chrome eye that magically shifts its hue as it catches the light. Need a palette to play with? Danessa Myricks' Lightwork Vol. IV Palette (used in the look above) is a Bustle-certified 10 out of 10.
Shades Of Barbiecore Pink
Snag some inspo from Margot Robbie (AKA the star of the upcoming film Barbie) and create a soft monochromatic look that features pink hues on your eyes, cheeks, and lips.
Y2K Washed Denim Eye
If you've yet to play with *very* '90s shades of blue on your eyelids like Kendall Jenner's recent glam, you're in luck: The nostalgic look has received a modern day rebrand and is officially in again.
Full-On Fuchsia
Play with fuchsia pigments in an unexpected, oh so editorial way by allowing your eyeshadow look to blend outwards and onto your temples. Bonus points for a matching hot pink lip.
The Prettiest Pearls
Mermaid-inspired pearls are having their moment — and this ocean-inspired glam truly has me in a chokehold.
Graphic Monochrome
I know, I know: Blending your eyeshadow is a *serious* must. But this look on Dove Cameron proves that unique shapes, sharp edges, and clean lines make for some graphic eye perfection.
Doe-Eyed Babydoll
Originating in China, "Douyin makeup" has been all over BeautyTok — and this V-Day version brings all of those doe-eyed, super sweet vibes.
Fairy-Dusted Under Eyes
Play with angelic, creamy white pigments and sparkling glitters along your under eyes.
Smokey Eyes, Rusted Red Lips
Not all reds are created equal — and this dark red lipstick has the perfect amount of on-trend copper undertones.
Give Them Ombré
Create a sultry ombré lip with an expertly blended ombré eye in matching colors.